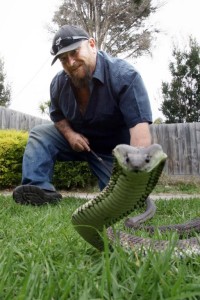 Dangerous and deadly snakes caught and relocated humanely by experienced Government licenced wildlife controllers.
Here on on the Mornington Peninsula, between Frankston and Portsea and out to Flinders ,Crib Point and Hastings we have many beautiful environments, inhabited by various plants and animals not seen anywhere else in the world. In the Summer we answer many calls from people who have seen or trapped a snake or lizard. Where ever possible we try to release the animal within five kilometers of the capture site unless the snake or lizard is an obvious escapee pet or hitchhiker. Generally speaking I can go and locate the snake fairly quckly and take it away. If you ring me to remove a snake you will need to keep observing the animal untill I get there. It is very hard to find a snake once it has been disturbed and has moved along.
On the Mornington Peninsula, we mostly have copperheads and tiger snakes.
In Frankston , Dromana ,Mt Martha ,Mcrae , Rosebud and Sorrento I have found healthy populations of tiger snakes.
Portsea as well has produced some fine specimens.
Around Hastings and Cranbourne we often get called out to the copperhead, which is most common between Someville and Balnarring.
Towards Dandenong and beyond there is a good chance of encountering a red bellied black snake.
These guys just want to get out of your way and are very inoffensive, unless provoked
Because the colours vary so much with tiger snakes and copperheads they are quite often mistaken for black or brown snakes.
If you have seen a snake and you want it removed, you can ring me and I will come out to your property and take it away for you.
Just remember, once you lose sight of a snake it can be very difficult to locate it again.